Graduating from Dunwoody in 2015 with an Associate of Applied Science in Graphic Design, alumni Matthew Sullivan has been driven to accomplish his goals in the field of graphic design. Recently, Sullivan accepted a full-time designer position at the nationally renowned firm Duffy Design.
As a part of the Duffy family, Sullivan works hard at making, "awesome brands even more awesome". This is all thanks to his Dunwoody education.
Dunwoody's two-year Graphic Design curriculum has been inspiring students to design the future since its inception. In the program, students begin through learning design principles, the Adobe programs and evolving their skills through projects which can be applied to the real world.
"I selected Dunwoody for Graphic Design because of their reputation for being the best technical college to offer a Graphic Design program in Minnesota. Another factor that directed me to Dunwoody was their astounding placement rate," Sullivan said. Currently the Graphic Design program sees a 100% placement rater and 8 job inquires per graduate.
"Pretty much everything that I've learned during my time at Dunwoody is directly utilized within my position at Duffy," Sullivan said. Sullivan has been working on branding with an emphasis on packaging while at Duffy. Additionally, Sullivan played an important part in setting up Duffy's first ever gallery show.
The Duffy Retrospective was a showcase of 35 years of design work. "The process of setting up the Duffy Retrospective was incredibly challenging, yet rewarding on many different levels," Sullivan said.  "I had the awesome opportunity to design the interior of the gallery along with having the opportunity to direct the production of the gallery."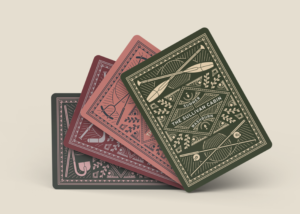 Outside of his work with Duffy, Sullivan has submitted several of his personal projects to various contests where he has earned a number of high profile awards. Sullivan is a two-time winner of The Gold Award from the Graphis New Talent Annual. The award was given to him for his personalized Sullivan Cabin playing cards and Emergency ICE Drink packaging respectively.
In addition to his personal projects, Sullivan stays connected to his Dunwoody roots through being a member of the American Institute of Graphic Artists (AIGA).
"I never forget where I've started," Sullivan said. "I'm constantly referring past companies of mine to Dunwoody for seeking new talent and for referring new students to Dunwoody."
"Dunwoody is the best place to get your foot into the door of the Graphic Design industry. Listen to and learn from the awesome design professors; Pete Rivard, Tom Herold, and Gerald Timmreck because they're amongst the best design professors in Minnesota," Sullivan said.
Sullivan is excited to design his future. With his goal of becoming an industry leader, he is proud to a Dunwoody alumnus and encourages students looking into the field of graphic design to come experience Dunwoody's remarkable program.