Seven Radiologic Technology student officially joined the ranks as Dunwoody alumni after a Pinning Ceremony on July 11, 2019.
The pins are a symbol of a ceremonial tradition dating back to the days when hospitals gave out X-ray pins at the end of training. Dunwoody continues the tradition as a way of celebrating graduates and launching them into the profession.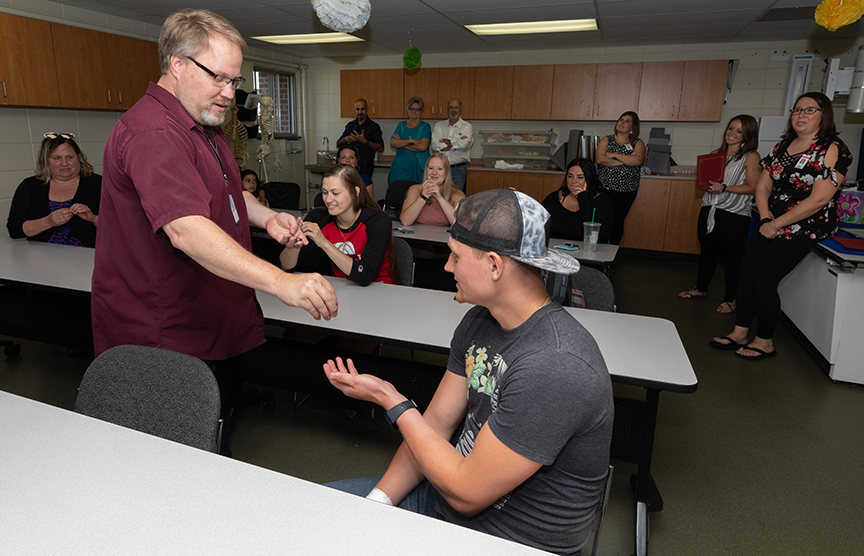 Since 2009, Dunwoody has awarded 149 Associate of Applied Science degrees in Radiologic Technology. Two cohorts graduate a year – one in July and one in December. Students must also pass the American Registry of Radiologic Technologies (AART) certification exam. Each student in the July cohort passed on the first try.
"By the time they are done with the program, students will have completed around 1,700 hours [of clinical experience]," David Blake, Radiologic Technology Program Manager said.
That level of experience is attractive to potential employers.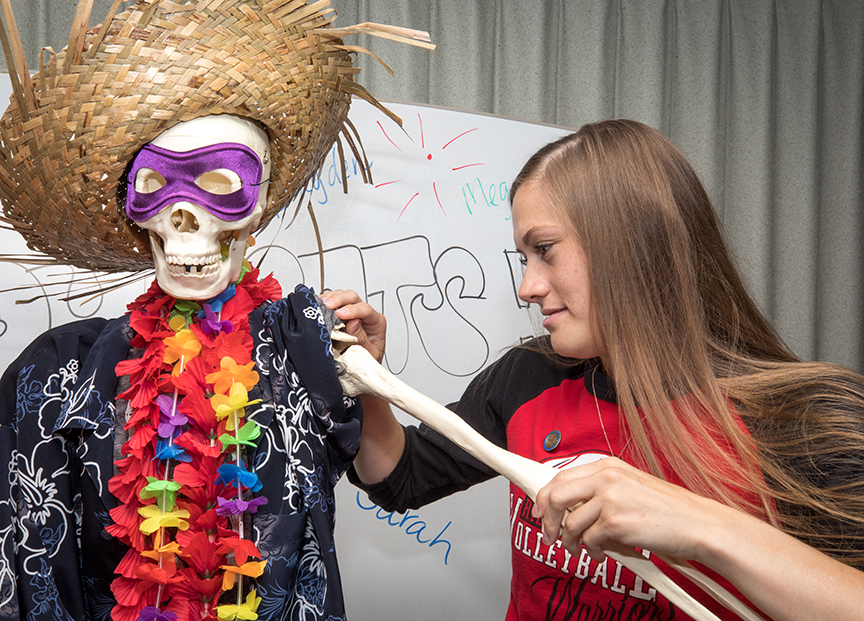 During their first year of class, students work side-by-side with professionals in local clinics and hospitals, such as Park Nicollet Methodist Hospital and North Memorial Health Hospital. Students work in these settings two days a week, increasing to three days a week during their second year at these locations or one of several Allina hospitals and clinics. This allows them to gain experience in just about every healthcare setting before graduating.
Students recognized with honors
During the Pinning Ceremony, with family, instructors and administrators watching, several Rad Tech students were recognized for their accomplishments:
Dunwoody Clinical Excellence Award: Mariah Rohm
This award is given to a student who exemplifies the ideal behavior in a clinical environment. This student works well with students, staff technologists, and other clinical instructors in their clinical setting. The student receiving the Clinical Excellence Award personifies the type of student that Dunwoody and the Radiologic Technology Program would want every student to strive to be in their clinical setting.
Dunwoody Academic Excellence Award: Courtney Holst
This award is given to one graduating student from each of the academic platforms at Dunwoody. The nominees for the award have a high attendance rate and have a cumulative GPA of 3.0 or higher. Other considerations for the award are based on work ethic, extra-curricular participation, pursuit of excellence, self-awareness, and leadership.
Best Team Player: Brayden Snow
This award is given to a student who exemplifies the meaning of the phrase "team player." This student takes it upon themselves to seek out work and help out in all areas in the Radiology Department and also works well with other students, department technologists, and clinical instructors. They are the first person to lend a willing hand when help is needed.
Best Patient Care Award: Sarah Zehnder
This award is given to a student who demonstrates superior care to the patients whom they work with during their clinical rotations. The student selected for this award ensures that the patient comes first and that all the needs and concerns that a patient may have are taken care of.