Cathy Heying, '10 Automotive Service Technology, knows first-hand that no one can do it all on their own. Heying founded The Lift Garage, a nonprofit automotive service garage which services low-income Minnesotans in need.  Watch her recent Ted Talk her here!
This story first appeared in the spring 2016 Alumni and Friends Magazine.
Cathy Heying, '10 Automotive Service Technology, didn't go to Dunwoody to transform her own life. She went to make a positive change in the lives of others.
With a master's degree in social work and religious studies, Heying has spent most of her career working with people in poverty and crisis. It was through that work that Heying started noticing the need for affordable car repair.
A working car not only allows people to get to work and medical appointments, it can also serve as alternative housing for those with no place else to go.
All of these experiences just kept nagging at Heying and eventually formed an idea – an idea that meant starting a non-profit in an industry that she had no experience in and no knowledge about.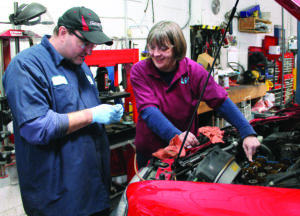 "I didn't know a lot about cars," Heying said. "I maybe liked them more than the average person, but I knew nothing about them."
But when the idea just wouldn't go away, Heying finally decided to look into it. At the same time, her hours at work were cut down to 25 hours a week and Heying thought this could be her opportunity to go back to school. It was then that she decided to check out Dunwoody.
It was March 2008 when she met with Chuck Bowen and got a tour. She remembers being told that they only had four slots left in the fall program. Still not convinced that this was what she was supposed to be doing, Heying decided it couldn't hurt to apply – after all, that didn't mean she would be accepted or that she even had to attend.
But she was accepted – and in the Fall of 2008 Heying started classes.
Automotive service wasn't a natural fit for the 38-year-old social worker. "I was miserable," Heying recalls.
During her first semester, Heying opened up to Dave Duvall, one of her instructors, about why she was there and he encouraged her to keep trying.
"I was so frustrated," Heying said. "There was this whole language that just didn't come naturally to me, but every time I would say that I needed to quit, Dave would say 'You can do this. You have the skills, the passion and the drive and I will help you every step of the way.'"
Duvall remains one of Heying's biggest advocates. He was her first Board Member for The Lift Garage and remains on the Board to this day.
"I'm not sure I would have made it if I was anywhere else," Heying said.
But she did make it – graduating with a degree in Automotive Service Technology in 2010.
For the next year and a half, Heying spent time having a lot of conversations with anyone who would listen about her idea to start a non-profit that would provide low-cost automotive repairs to those in need. "I wasn't sure if anyone else would think that this was a good idea," Heying said.
She also decided that if she was going to open up a service shop, it might be a good idea to actually work in one. So Heying got a job in the automotive service center at Sears, right across from the State Capitol. Heying was still working in the social work arena and would often spend her mornings in her shop uniform working on cars, and then change into a suit to go meet with legislators.
But her idea not only resonated with others – it soon grew enough traction for Heying to get the 501(c)3 paperwork, which would officially start The Lift Garage, a nonprofit aimed to move people out of poverty and homelessness by providing low-cost car repair, free pre-purchase car inspections, and honest advice that supports our community on the road to more secure lives.
The paperwork was filed in June 2012 and by the August, she had her letter of acceptance. The Board was meeting regularly at this point, outlining everything that would need to happen before they could work on their first car.
The plan was to open at the end of 2013, but as with everything else, things didn't work out exactly as planned.
Heying remembers getting a call from a woman who was running a business converting hybrids at a location on Nicollet Avenue in Minneapolis. The woman's supplier had unexpectedly gone out of business and with a year and half left on her lease, she thought The Lift might want to sublet a bay in the garage.
It seemed too soon. Heying recalls the list of things they still needed to have in place – such a phone number, insurance and volunteers. But when the woman reached out again, the Board decided to take the leap.
"We were rejected 13 times before we got insurance," Heying said. But by April 2013 – a full eight months ahead of schedule – The Lift Garage opened its doors. They had one service bay, were open for one day a week, utilized all volunteer service techs, and were not at all sure what the need and response would be.
During that first month they did four car repairs and their waiting list grew to three months. Two years later, The Lift Garage has a staff of two and half service techs, is open five days a week, completes 46 car repairs a month – and still has a three month waiting list.
"We've never been able to get on top of the demand," Heying said.
One of The Lift's full-time techs is Dunwoody alum John Buttner, who started off as a volunteer and then moved to part-time, before being brought on as the first full-time employee.
Heying is also working at The Lift full-time now. "I would still not say that I'm a 'great' tech. I have to work really, really hard at it," Heying said.
But for the clients she serves and the lives she impacts – her hard work is making all the difference in the world.
To find out more about The Lift Garage, visit www.theliftgarage.org.