Last semester, Dunwoody Architecture students worked on design proposals to revitalize Loring Park for the City of Minneapolis. The semester-long project centered around creating a new enclosure for the iconic Berger fountain, as well as proposals for new bus stops and paths.
The City approached Dunwoody as a partner on the project because of the College's reputation of enrolling hands-on, highly-skilled students. The City of Minneapolis plans on using student work to help bolster fund-raising efforts to make the proposals come to life.
Throughout the project, students met with the City of Minneapolis several times and earned invaluable client skills.
"Having a real client is important," Architectural Drafting & Design professor Paul Bierman-Lytle said. "With the project being an important landmark next door, we were able to focus on it and truly understand what needed to be done."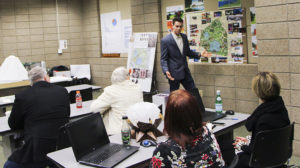 "One of the things you learn from clients is how to work professionally," said third year student Mitchell Olson. "What sets us apart from other schools is that we are more technology and focus based. Here, we get right into the field and do real world projects."
These real-world projects mean students are able to acquire a diverse set of skills.
"Instead of being on my computer, working with my hands gives me a new level of understanding," said third year student Marina Fooks. "The biggest challenge was the enclosure and just coming up with a design that works. The client has particular requests and we have to meet them in innovative ways."
This project provided students with hands-on-skills through the use of 3D printing and modeling,  research, and conceptual development. The class even took their research underground as they toured the piping system that makes the Loring Park fountain work.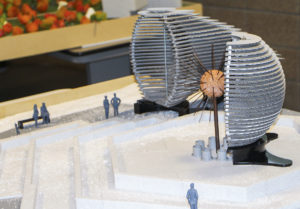 In addition to their site research, the classmet with Sydney Beane, a local Native American leader and film-maker who played a role in the renaming of Lake Calhoun to Bde Maka Ska. Beane shared lessons of cultural sensitivity, and significance of the space.
Beane's lessons stood out to students and some even incorporated Native American art and videos into proposals for the fountain enclosure. Through understanding the space, students were able to make informed decisions on the aesthetics and overall vision of their project.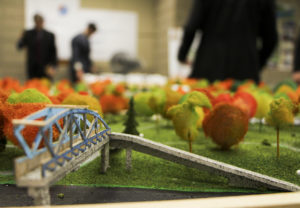 Each student played an important role in their respective projects. Fooks, for example, worked on cataloging every tree in the park and placing them into the 3D model of Loring Park. Each student proposed their own ideas, conceptual renderings, and models for the new park improvements.
Thinking beyond the fountain included concepts such as gateway arches that would serve as a transition from the City into the park, Green-House style community gardens, and enclosed bus stops.
Going forward, Tom Harold from the Graphics Department plans to have his students collaborate through designing signage and way finding for the park.
Members of the community and industry attended the final presentations to see the completed design proposals and models. This experience provided students with strong professional portfolios, and a hands-on experience that will be applied to their careers in the future.