After attending college for a couple of years, including spending a semester abroad in Japan, Rachel Pollard found herself uncertain about which direction to go in.
What she did know, though, is that she didn't want to go back to college until she was confident about a career direction. And she was looking for a career that met her criteria.
"I wanted a secure job," Pollard said. "A job that wasn't going to be outsourced or that tech was going to replace in a few years."
Ideally, it would also be something where she could interact with people and help them. Pollard wasn't interested in spending all her time in a cubicle staring at a computer screen.
She investigated becoming a therapist, but that would take five years. Then she discovered that Dunwoody has a Radiologic Technology program.
"I liked the general focus," she said. "It's not just X-ray. You can advance into other [imaging] modalities. And you still get to help people – still get to be in the medical field."
What's more, the program is only two years. And it had small class sizes.
It turned out to be a good fit. So much so that Pollard is one of two Academic Excellence Award winners from the Radiologic Technology program – representing the cohort that finished their studies last December.
"In clinical, Rachel was never hesitant to jump in on new exams or try new ways of doing things," Radiologic Technology Program Manager David Blake said.  "She was always eager to learn new processes. Many times she would brainstorm on how to improve processes for not only patient care, but for the environment as well. I have no doubt that she will have a large impact in not only the world of radiology, but also our world in general." 
Dunwoody's program focuses on combining classroom learning and clinical experiences throughout the program rather than doing all the classroom first and back-loading the clinicals. It was a curriculum that worked for Pollard.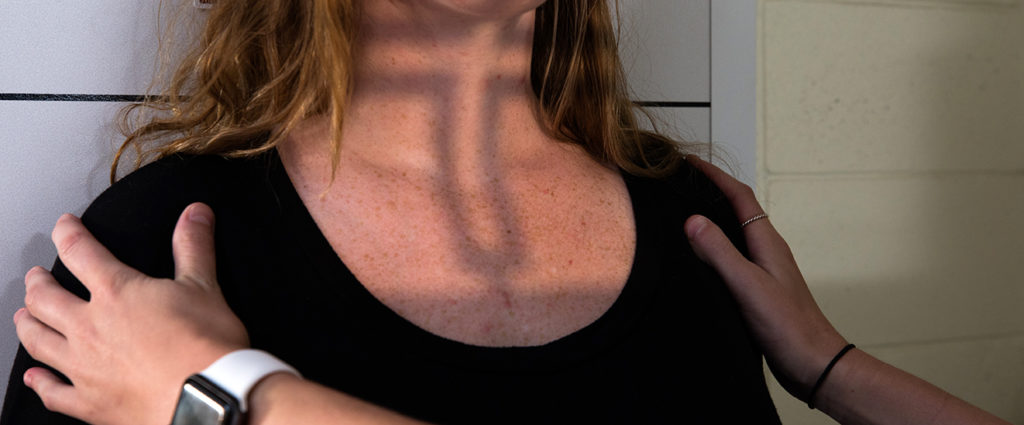 "When you're learning in a classroom setting and then transferring to a clinic, you might lose some of what you learned," she said. "It's much better to have both at the same time because you can use the skills you're learning in the classroom the next day in clinic."
She also discovered that her instincts about wanting to work with patient care were correct.
"With the way the program is here, all the patient interaction was always a plus," she said. "Knowing that you're actually helping someone. Helping with the progress of their treatment."
Pollard is currently working at iSpine Pain Physicians in Maple Grove doing fluoroscopy as part of their procedure team. She likes it — she discovered through her clinical rotations that she prefers a clinical setting over a hospital one — but she'd like to pick up a special imaging modality (most likely mammography). She'd also like to travel again and see how her skills translate abroad.
"I really like the idea of getting out there and getting a global experience in imaging and pushing myself," she said. "I love travel. I feel like the best kind of exploration is internal and discovering who you are. I can't do that consistently if I'm staying in one place."
She's thinking about Ireland or Hong Kong. Or maybe New Zealand. She has an uncle who lives there, and New Zealand is looking for imaging professionals.
But for now, she's pleased to be at iSpine and making sure she upholds the standards of care she learned at Dunwoody.
"Every patient to me is important, and their care is important," Pollard said. "And how I treat them is important. You can have a big impact on them even though you're with them for a short time."