It was just another day at Dunwoody, when Ken Weis, a '15 Tool Technology and '17 Engineering Drafting & Design alum, was approached with the project of a lifetime: to build parts for a prosthetic foot that would allow athletes to participate in high-impact sports.
The project would be in partnership with Minnesota native Mike Schultz, a professional snowmobile racer who lost his leg above the knee in a 2008 race injury.
Determined to race again, Schultz had created a prosthetic knee unit that allowed him to competitively ride. Known as the Moto Knee, the device earned him a motocross adaptive silver medal at the 2009 X Game.
Recognizing the need for — and the success of — his prosthetic knee, Schultz launched his own company, BioDapt, in 2010 with a mission to design, manufacture, and distribute lower limb prosthetic components for action sports.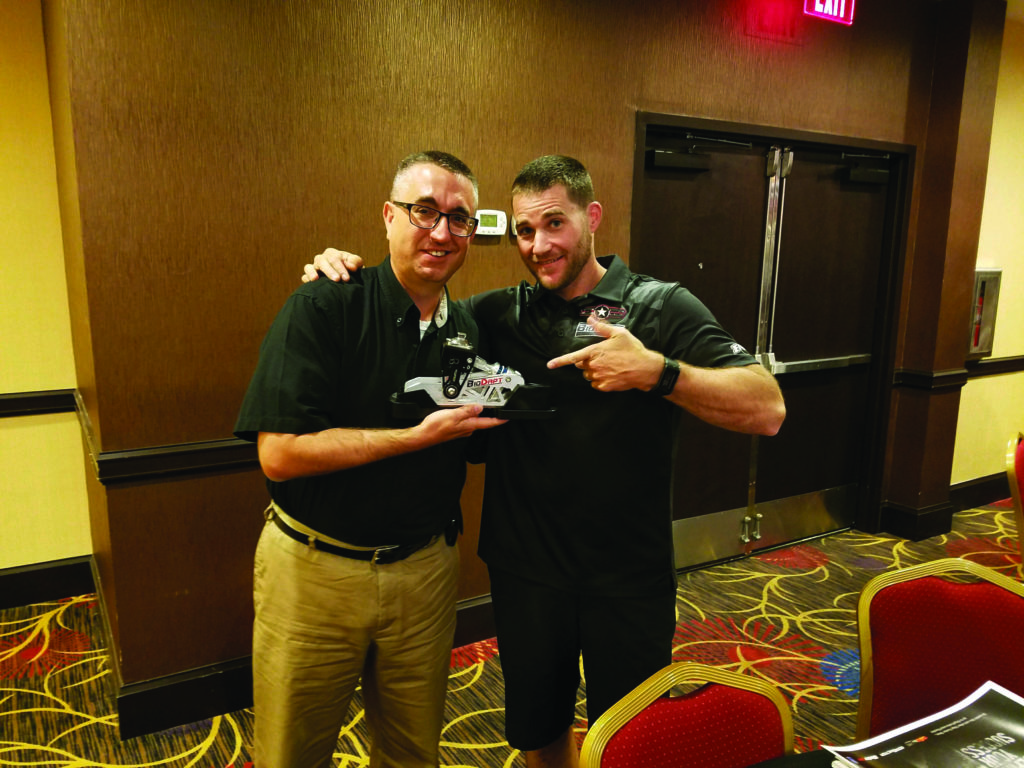 Five years later, he was on his next mission: to create a prosthetic device that would allow any amputee to downhill ski.
"All you need is the motivation to come up with something and then find and use the tools to create it," Schultz said. "I felt that working with students to help out with this prototype project would be a perfect fit. I knew it would be a fun and very challenging project for them and could really help us bring our equipment to the next stage of development."
Dunwoody partners with professional athlete Mike Schultz
So, Schultz passed along his project proposal to Luke Becker, his brother-in-law, local educator, and Dunwoody supporter, who brought it to Dunwoody's Robotics & Manufacturing department.
Robotics & Manufacturing Dean E.J. Daigle then brought the project to Machine Tool Technology Instructor Brian Nelsen.
"E.J. sent Brian the prints, asking him if this was something we could do," Weis, who was Nelsen's student worker at the time, explained.
"Brian then handed them to me and asked me what I thought and what my concerns were—he was testing me, I think. We spent a few days discussing how we would produce the parts given our capabilities. We ultimately decided that creating the parts would be a huge challenge…so naturally we said 'yes'," Weis said.
"One of the amazing things about working with Brian is that, even though you are his student worker, he is open-minded to your ideas. He made me feel part of the process and gave me a feeling of responsibility for the project."
So, at the start of the spring 2015 semester, Nelsen and Weis got to work.
Over the next year, the Dunwoody team designed and manufactured four parts to the final unit, including a foot base, shock mount, shock pivot, and shock rod, which would connect to Schultz's original Moto Knee.
The project was immensely gratifying.
"It was an honor to work on a project that would help people who would not normally be able to do things due to an amputation," Nelsen said.
Special project inspires Weis to continue his education
The undertaking, however, wasn't easy. Since it was a completely extra-curricular project, Nelsen and Weis spent hours before and after class talking plans, creating parts, and running programs.
"Finding time for a project like this was a struggle, but nothing good is easy," Nelsen reflected.
In the midst of the project, Weis graduated from the Machine Tool Technology program and began working second shift at Multisource in Burnsville. But leaving the project behind wasn't an option.
"I would come in on Friday mornings, after a nap, and work on the parts. I was invested in the project and wanted to see it to its conclusion," Weis said.
And it wasn't long before Weis found further inspiration in the project: a new career path.
"Working production on this project after graduation opened my eyes to a previously dismissed career path," Weis said. "I started talking to E.J. about possibly coming back to school. The following fall, I enrolled in the Engineering Drafting & Design program."
Dunwoody team, project reaches major milestones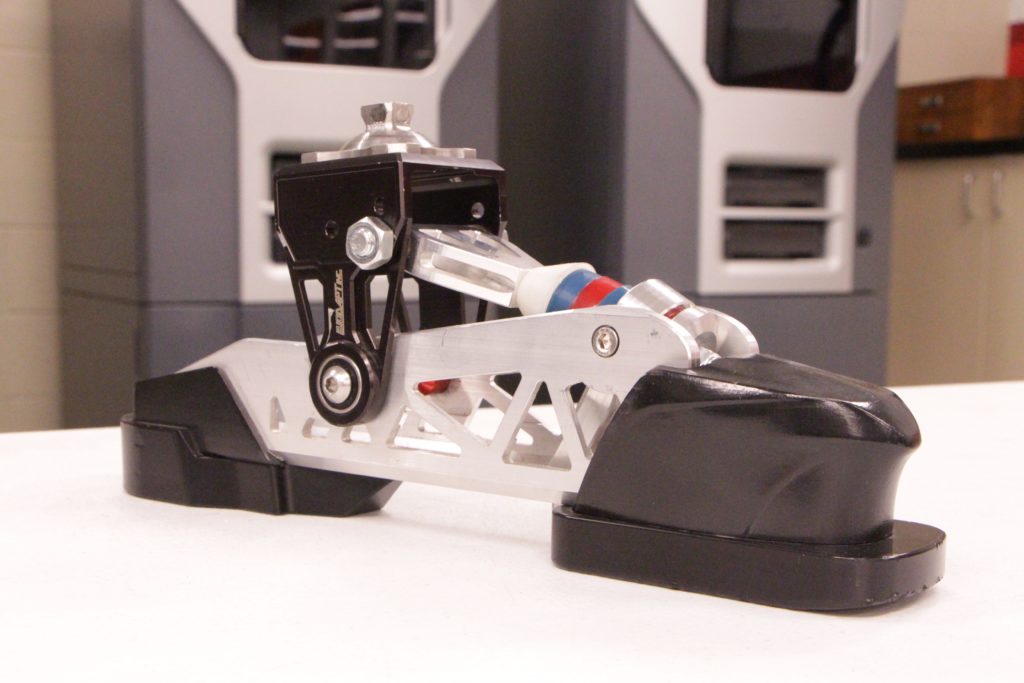 In early 2016, the project was finally complete, and six full units were created and distributed. One of those units went on for testing in future winter and summer sports, one unit was given to Dunwoody, and the final four units were given to Schultz and the USA Paralympic downhill ski team.
In May of 2017, another milestone was reached: Weis earned his second Dunwoody degree in Engineering Drafting & Design. Shortly after, he began to work in the Engineering department at Engel Diversified Industries, Inc., where he still works today.
And in March 2018, Schultz and the USA Downhill Ski team competed in the PyeongChang Paralympics, using an evolution of the foot prototype Dunwoody helped create.
It was also there that Schultz won his first Paralympic gold medal in Snowboard-Cross.
The final design and unit created by Schultz was later named the Versa Foot and joined his product line alongside the Moto Knee.
"This year was definitely a highlight for my company and I, with all the success we had during the Paralympic Games in South Korea," Schultz said. "Fifteen athletes from around the world competed at the games using our Moto Knee and/or Versa Foot, and between all of us we brought home 11 medals!
"I can't thank Ken and the crew at Dunwoody enough for the outstanding work done.  I was extremely happy with how everything turned out and the components are still being used by me and a couple others,"
The experience has also left a lasting impression on Weis.
"I first came to Dunwoody at the age of 39," Weis shared. "It had been 21 years since I had been in school. I was given the opportunity to be the student worker at the end of my first semester, which turned out to be one of the best experiences in my life. Dunwoody has left a lasting impression on my life that will never fade."