Free robotics seminars thrive for ninth year in a row
---
Sharing knowledge and best practices has always been a focal point for Dunwoody. But few departments do it quite like Robotics & Manufacturing.
For the ninth year in a row, Dunwoody's Robotics & Manufacturing department will offer free seminars for high school students interested in joining and participating in MN FIRST Robotics.
Ties with MN FIRST Robotics strengthen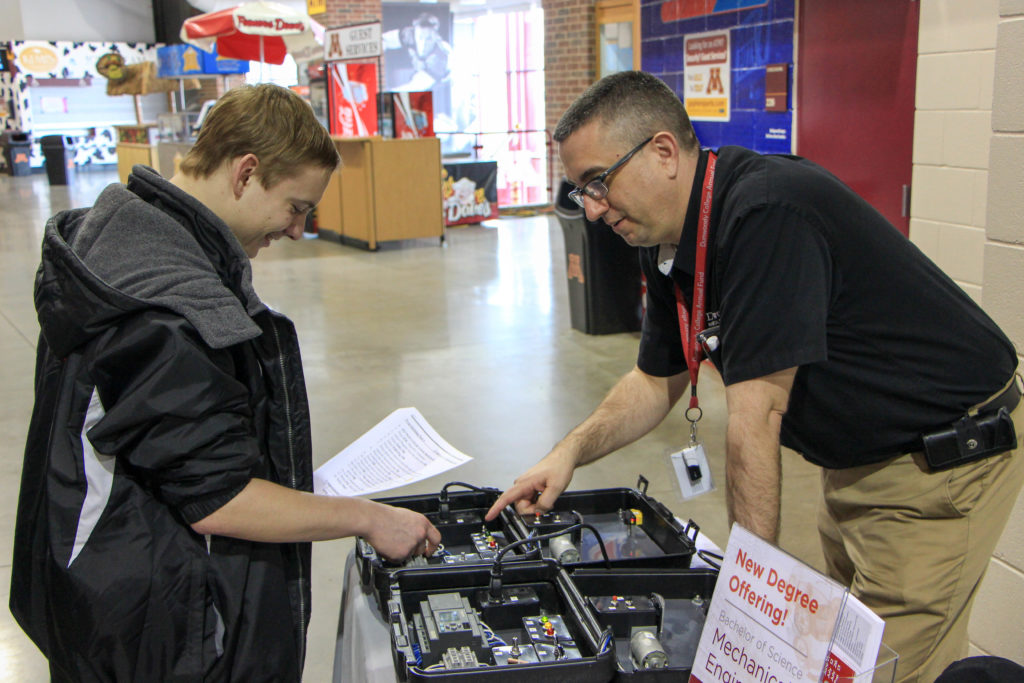 Currently offered by more than 200 Minnesota high schools, MN FI
RST Robotics is a Varsity Letter sport open to all high school students as early as their freshman year. During the season, teams work together to design, build, and program complex robots. Those same robots later compete for points in both regional and state competitions. Teams and team members also compete for various awards recognizing qualities like entrepreneurship, creativity, and innovation.
Dunwoody presents a Unique Engineering & Design Award, which recognizes high school robotics teams that exhibit unique engineering design solutions, each year.
The free Dunwoody seminars were designed for teams looking to brush up on skills or help new team members get up to speed.
"Dunwoody has had a great relationship with MN FIRST Robotics," Dean of Robotics & Manufacturing E.J. Daigle said. "We have had over 1,000 students attend these seminars since we started them in 2009. I see many of the students at the competitions, and several come back each year."
During the seminars, participants receive hands-on training from Dunwoody faculty and students in areas like:
Basic electricity and electronics;
LabVIEW programming;
Shop skills and hand tools;
Solidworks Design; and
Industrial robotics.
From seminars to careers
Those who complete the training receive a certificate of completion and are eligible for a $2,000 scholarship if they choose to further their education at Dunwoody.
And many do.
"There are more than 50 students currently attending Dunwoody that are FIRST Robotics alumni," Daigle said. "These seminars show students how a fun competition/high school sport can easily turn into an extremely high tech, rewarding career in automation and robotics."
The FIRST Robotics season kicks off this January. Dunwoody will host a free seminar each month up until then.
Dates and times include:
Saturday, October 6, at 8 a.m.
Saturday, November 3, at 8 a.m.
Saturday, December 1, at 8 a.m.
All three sessions will be held at Dunwoody.
Students can register here or contact Daigle at edaigle@dunwoody.edu for more information.