Scholarship Spotlight: Caleb Zabel, '20 Architectural Drafting & Design
---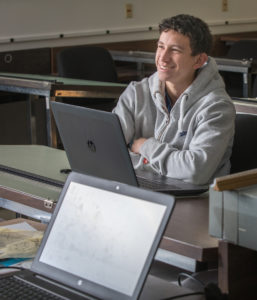 Deciding to pursue a degree in architecture was not a difficult decision for Caleb Zabel.
"Buildings have always interested me as a glorified art form," Zabel said. "Discovering and studying the technical aspects of construction and architecture amazes me."
So when Zabel heard about Dunwoody's Bachelor of Architecture program, it was an easy "yes." And he hasn't looked back.
"I believe Dunwoody has an organic approach to teaching. Teachers are extremely helpful in each step of the learning process, and I love the classrooms," he said.
The program's hands-on and project-based assignments have also left quite an impression on him.
Zabel shared that during the beginning of his first Studio class, Architecture Program Manager John Dwyer challenged students to dimension and manually draft a small house he had designed completely to scale.
"In that moment," Zabel explained, "I felt as if I was operating as a surgeon to the building. I began to appreciate the craft of architecture more, and I mentally mirrored architects as building doctors."
It is a lesson that will stick with him. And one that Zabel knows might not be possible without the help of the Construction Career Pathways (CCP) Scholarship.
"The CCP scholarship is a major key in the start of my success," he said. "Helping me with my tuition is instrumental, and I am very thankful."
Now halfway through his first semester, Zabel is eager to meet his industry mentor, another unique and key feature of the scholarship.
"I'm excited to learn from his wisdom and listen to his advice of how I can become more professional in life," he said.
Upon graduation, Zabel hopes to continue his education and complete a Master's Degree in Yacht Design at Istituto Superiore di Architettura e Design in Milan, Italy.
Zabel will graduate from Dunwoody's Architectural Drafting & Design program in Spring 2020.