Dunwoody helps automotive student Amy Lee Hinz find her path
---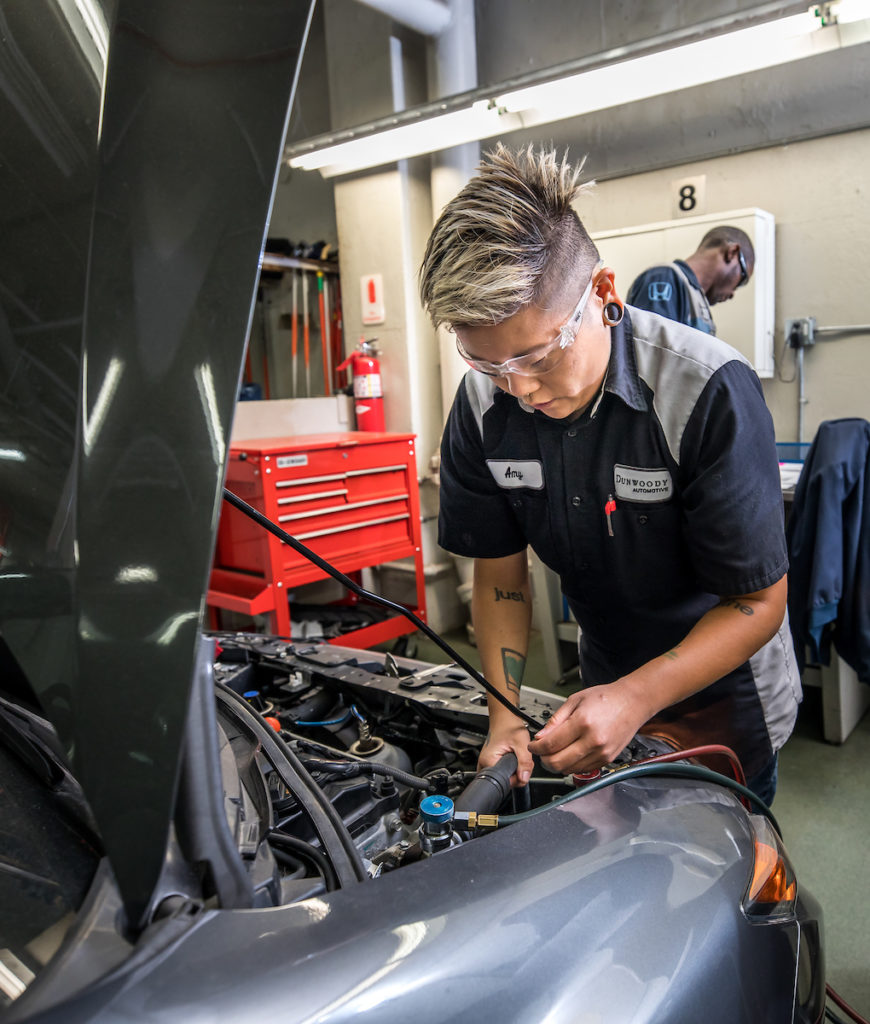 Automotive student Amy Lee Hinz has big plans for her future. And Dunwoody's Women in Technical Careers (WITC) scholarship is helping her achieve them.
After graduating from high school in Rush City, a small, rural town in Minnesota, Hinz was ready to see what else the world had to offer.
"I needed to go to bigger, different places," she explained. So she packed her bags and headed to Minneapolis, planning to pursue a degree in English at a nearby liberal arts college.
It wasn't long, however, until Hinz discovered that this was not a career path she enjoyed.
"My whole life," Hinz explained, "My parents, my guidance counselor, my friends — everyone told me I was going to be a writer. I think I was just so young and wasn't thinking critically for myself yet that I didn't even consider anything else as an option."
In an effort to find her passion, Hinz began to work a series of different jobs, ranging from online marketing to logistics to retail operations management. She even pursued a drumming career with an all-girl band.
But after nearly 10 years of trying to find something that spoke to her, Hinz recalls when she knew it was time to make a real change.
"I was climbing this corporate hill, and I realized — it wasn't a hill I wanted to die on," she said.
It was also then that she realized just how much she wanted to pursue a hobby that has been with her since the very beginning: fixing cars.
Coming back to Automotive
"Growing up, I would always sit out in the garage with my dad and watch him change oil, help hold the wrench," she explained. "And, years later, I realized just how much I had grown into the car community. How I've done all the work on my own vehicles. How I've learned so many things from books and YouTube and people. And how I've saved hundreds and hundreds of dollars — and just how much fun it is."
Hinz also recognized that this knowledge was a gift.
"There is a huge void of women mechanics, queer mechanics, trans mechanics," Hinz shared. "And I think there are also a lot of people who walk into an auto shop and have a feeling that they are going to get ripped off. And it really bothered me that I had this knowledge that a lot of others didn't have — and that I don't have that feeling when I walk into a shop. It shouldn't be like that. And I thought, well, I could either sit here and let it bother me, or I could become something that I saw wasn't there."
So in 2016, Hinz toured Dunwoody to learn more about automotive programs — and quickly discovered this is where she had to be. But paying for the education would be difficult.
"I learned I had just missed the deadline for the Women In Technical Careers scholarship, and being an unconventional, older student, I knew how much I could use that assistance," she said.
Hinz then made the difficult decision of postponing her plans for another year in hopes she would receive the scholarship in 2017.
Her decision paid off.
WITC makes Dunwoody possible
"Receiving this scholarship means a lot," Hinz said. "It wouldn't be possible for me to go here in absence of the scholarship. WITC is a powerful thing. It's given me a lot of opportunities and connections that I wouldn't otherwise have."
Hinz also credits having a point person, members in a cohort, and the Women's Resource Center as other key contributors to her success.
"It really makes a difference to just know someone and know you have a place to go."
Following graduation, Hinz has plans to start doing what got her interested in the automotive field from the very beginning: helping others.
"I'd love to develop an auto repair facility that caters to women, trans people, people of color, and then empower them to learn more about their car and how to fix it themselves," she said.
Hinz is set to graduate from the Honda Professional Automotive Career Training program this spring.