Gloria Perez, President & CEO, Women's Foundation of Minnesota
Thursday, November 3, 2022 | 7:30 a.m.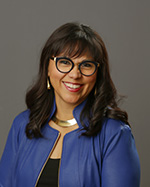 Gloria Perez is President and CEO of the Women's Foundation of Minnesota (WFMN) where she leads the first statewide women's foundation in the country. As a local and national leader in advancing women, Perez brings a unique and valuable perspective to women's economic justice and the multifaceted issues that girls and women face.
Perez will talk about the barriers that women experience in building economically prosperous lives and the investments we need to make to ensure all women have opportunities to succeed in their chosen fields and contribute to their families, communities, and businesses.
WFMN sees women and girls at the center of families and communities and invests in removing barriers so all women, girls, and gender-expansive people – and their families – have the power to create and lead safe, prosperous lives. By investing in grants, research and listening, advocacy, narrative change, and cross-sector partnerships, WFMN provides access to opportunities for women, girls, and gender-expansive people to build economically prosperous, safe lives and to grow as leaders. WFMN's research through their Status of Women & Girls in Minnesota report shows disparities in the current environment and brings solutions to light to help invest in pathways for women to lead.
Perez became one of the country's leading experts in two-generation strategies to reducing poverty as President & CEO of Jeremiah Program, a national nonprofit whose proven, holistic approach transforms families from poverty to prosperity two generations at a time. Perez has more than 25 years of experience across sectors, ranging from small business, for-profit corporations to nonprofit human service organizations. A graduate of Macalester College, Perez is the recipient of numerous awards, including the Alexandrine Medal from St. Catherine University, an honorary doctorate degree from Macalester College, and the Ellis Island Medal of Honor.
She serves on the board of directors for Esperanza United, Macalester College, Hazelden Betty Ford Foundation, the Ciresi Walburn Foundation, and the Saint Paul & Minnesota Foundation.
Perez has two children and lives with her husband in Minneapolis.
RSVP
Upcoming Related Events
2023 Alumni & Friends Golf Tournament
Details