Darrell Thompson, President, Bolder Options
Thursday, October 6, 2022 | 7:30 a.m.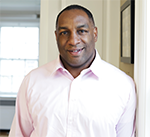 Darrell Thompson will be presenting Love and Leadership, a session based on his own personal experiences growing up in greater Minnesota, and 50 years' worth of lessons learned from his parents, coaches, and mentors. Thompson will also share how the "school of hard knocks," and learning to listen impacted his career success.
Darrell Thompson is the President of Bolder Options, an innovative nonprofit focused on healthy youth development, and has been serving the organization for 26 years and counting in various roles. With his leadership, the organization has grown to serve over 4,500 kids annually in the Twin Cities Metro program, and recently expanded services to his hometown in Rochester, MN. Youth are matched with a caring adult mentor and introduced to an active lifestyle based program that provides guidance, support, and opportunities through one-on-one, small group, and family specific programming designed to help them make positive choices and live a healthier life.
Athletics has played a significant part in Thompson's life and career. In 2016, Thompson was awarded the "Athletes in Excellence Award" from The Foundation for Global Sports Development, which recognizes exceptional athletes who uphold the values of good sportsmanship and fair play both on and off the field. Thompson is often known as one of the most decorated athletes to graduate from John Marshall High School in Rochester, MN, was the leading rusher in University of Minnesota Gopher Football History and was the first round draft pick of the Green Bay Packers in 1990.
Thompson sits on the board for NFL Retired Players Association, Prodeo Academy, V3, Black Men Teach, Twin Cities Public Television, and was named to CASA, the National Advisory Commission on Substance Abuse among High School Students, by Congressman Jim Ramstad.
Thompson lives in Plymouth, MN with his wife, Steph and have four children. In his off time, you might find Thompson enjoying riding his Peloton, fishing, or playing a round of golf. Throughout the college football season, Thompson is a Learfield Sports Gopher Game Day announcer, which broadcasts live on 100.3FM KFAN.
RSVP