Colette Campbell, Chief Talent Acquisition and Diversity Officer, Bremer Bank
Thursday, May 4, 2023 | 7:30 a.m.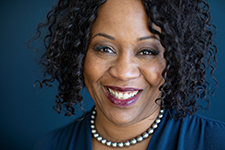 Colette Campbell has been a member of the senior leadership team at Bremer Bank since 2017 and was promoted to the senior executive team in 2020. In her current role, she serves as the Chief Talent Acquisition and Diversity Officer. In this enterprise position, Colette leads Bremer's talent acquisition, diversity, equity, and inclusion strategy, which includes shaping Bremer's recruiting processes and incorporating DEI into Bremer's overall business.
Colette's past positions include serving as faculty in business, human resources, and human development disciplines. She has provided coaching, training and consulting services for many years through her own consulting business. Colette holds degrees in religious studies, counseling, management, leadership, and human development.
Colette brings both a personal and professional diversity to her position. She was raised in Canada by Jamaican-born parents and has lived and/or taught on almost every continent in the world. Colette is passionate about creating spaces to help people better understand themselves and others to work better together.
RSVP
Upcoming Related Events
2023 Alumni & Friends Golf Tournament
Details