Chase Hawkins, President & CEO, Carousel Motor Group
Thursday, April 6, 2023 | 7:30 a.m.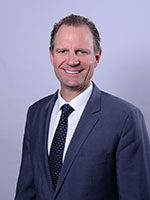 Chase will be presenting on "The Top 5 Most Enduring Leadership Attributes." What drives a leader? It's not just pure ambition and luck. Chase Hawkins will share his journey to uncovering the Top 5 most enduring attributes for leaders. Whether you're a seasoned leader or just starting your journey, there are insights for everyone.
Chase Hawkins is the President and CEO of Carousel Motor Group. He has over thirty years of global automotive experience spanning five continents, working for General Motors for more than half that time in senior leadership positions in sales, service, marketing, product planning and pricing. He joined Carousel Motor Group in the summer of 2016 as Vice President for the Porsche Brand, after three years as General Manager for a large multi-franchised auto group based in Chicago.
He holds a Bachelor of Commerce degree from the University of Natal, South Africa and an Associate degree in Business from the University of St Gallen, Switzerland. Chase is married with a daughter and son.
RSVP
Upcoming Related Events
2023 Alumni & Friends Golf Tournament
Details