Please join us as we celebrate and support women pursuing careers in technology and the skilled trades!
Wednesday, November 16, 2022 | 12 p.m. – 1:30 p.m.
Metropolitan Ballroom and Clubroom
5418 W Wayzata Blvd
Golden Valley, MN 55416
Your support helps provide scholarships for women students at Dunwoody College.
Sponsor Opportunities
There are a limited number of sponsor opportunities for the 2022 Kate Dunwoody Society Luncheon. Click here to learn more (PDF).
Kate Dunwoody Society Luncheon Keynote Speaker: Kate Agnew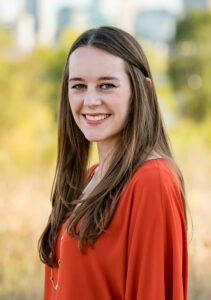 Kate Agnew is the Vice President of Engineering at Kyros, a platform aimed at increasing positive recovery outcomes for people affected by substance use disorder.
She previously worked at UnitedHealth Group and Target Corporation.
After completing undergrad at Macalester, she obtained her MBA from MIT. She serves as chair for the city of Edina's Planning Commission, vice chair on the school board of the Laura Jeffrey Academy, and was recently selected as a '40 Under 40' honoree in the Minneapolis/Saint Paul Business Journal.
RSVP