LEAD SPEAKER SERIES
Thursday, Oct. 6, 2022 Speaker: Darrell Thompson, President, Bolder Options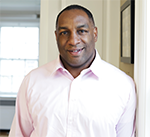 Darrell Thompson will be presenting Love and Leadership, a session based on his own personal experiences growing up in greater Minnesota, and 50 years' worth of lessons learned from his parents, coaches, and mentors. Thompson will also share how the "school of hard knocks," and learning to listen impacted his career success.
Darrell Thompson is the President of Bolder Options, an innovative nonprofit focused on healthy youth development, and has been serving the organization for 26 years and counting in various roles. With his leadership, the organization has grown to serve over 4,500 kids annually in the Twin Cities Metro program, and recently expanded services to his hometown in Rochester, MN. Youth are matched with a caring adult mentor and introduced to an active lifestyle based program that provides guidance, support, and opportunities through one-on-one, small group, and family specific programming designed to help them make positive choices and live a healthier life.
Athletics has played a significant part in Thompson's life and career. In 2016, Thompson was awarded the "Athletes in Excellence Award" from The Foundation for Global Sports Development, which recognizes exceptional athletes who uphold the values of good sportsmanship and fair play both on and off the field. Thompson is often known as one of the most decorated athletes to graduate from John Marshall High School in Rochester, MN, was the leading rusher in University of Minnesota Gopher Football History and was the first round draft pick of the Green Bay Packers for 5 years.
Thompson sits on the board for NFL Retired Players Association, Prodeo Academy, V3, Black Men Teach, Twin Cities Public Television, and was named to CASA, the National Advisory Commission on Substance Abuse among High School Students, by Congressman Jim Ramstad.
Thompson lives in Plymouth, MN with his wife, Steph and have four children. In his off time, you might find Thompson enjoying riding his Peloton, fishing, or playing a round of golf. Throughout the college football season, Thompson is a Learfield Sports Gopher Game Day announcer, which broadcasts live on 100.3FM KFAN.
Thursday, Nov. 3, 2022 Speaker: Gloria Perez, President & CEO, Women's Foundation of Minnesota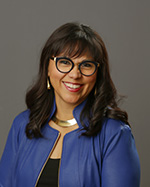 Gloria Perez is President and Chief Executive Officer of the Women's Foundation of Minnesota (WFMN), where she leads the first statewide women's foundation in the country. WFMN has distributed more than $45 million through community investments; conducts ongoing research on the status of women and girls in Minnesota; advocates for public policy that results in greater economic security and safety for women and their families; and invests in organizations and leaders to build the field and achieve gender and racial justice.
Perez became one of the country's leading experts in two-generation strategies to reducing poverty as President & CEO of Jeremiah Program, a national nonprofit whose proven, holistic approach transforms families from poverty to prosperity two generations at a time. Perez has more than 25 years of experience across sectors, ranging from small business, for-profit corporations to nonprofit human service organizations.
A graduate of Macalester College, Perez is the recipient of numerous awards, including the Alexandrine Medal from St. Catherine University, an honorary doctorate degree from Macalester College, and the Ellis Island Medal of Honor. She serves on the board of directors for Esperanza United, Macalester College, Hazelden Betty Ford Foundation, the Ciresi Walburn Foundation, and the Saint Paul & Minnesota Foundation.
Perez has two children and lives with her husband in Minneapolis.
Thursday, Dec. 1, 2022 Speaker: Eric Jolly, Ph.D., President & CEO, Saint Paul & Minnesota Foundation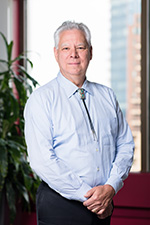 Eric J. Jolly, Ph.D. is the President and CEO of the Saint Paul & Minnesota Foundation – an organization working to create an equitable, just and vibrant Minnesota where all communities and people thrive.
With roots in Saint Paul since 1940 and partners across the state, the Foundation is Minnesota's largest community foundation, stewarding nearly 1.5 billion in charitable assets, including the work of F. R. Bigelow Foundation, Mardag Foundation, and a statewide network of more than 2,000 charitable organizations and donor-advised funds. Each year, the Foundation and its donors make over 8,500 grants to agents and agencies of change.
Jolly joined the Foundation in 2015. As a lifelong educator and scientist, Jolly's signature leadership style has been to listen deeply to those in the community. As a result, Jolly has focused the Foundation on three distinct strategies: inspiring generosity, advancing equity, and investing in community-led solutions.
The consistent thread woven throughout Jolly's vast career is the belief that all humans deserve a life filled with dignity and opportunity. This commitment has lead him to serve in many capacities.
Before joining the Foundation, Jolly worked for a decade as president of the Science Museum of Minnesota and prior, as vice president and senior scientist at the Education Development Center in Massachusetts. He has also worked in successive academic roles at several colleges and universities, including professor, dean, assistant chancellor and director for Affirmative Action and Diversity.
He is a life member of the Society for Advancement of Chicanos and Native Americans in Science, a life fellow of the American Association for the Advancement of Science and former director of the board of the National Museum of the American Indian.
Currently he serves on a number of local and national boards, including the Cornell Laboratory of Ornithology and Greater MSP. Jolly is a member of honor societies, including Sigma Xi, Phi Eta Sigma, Mortarboard and Golden Key.
Widely recognized for his work with communities and policy makers, Jolly has published articles and books and has lectured around the world. He is also a frequent contributor to articles, opinion editorials and global conversations and convenings about equity, inclusion, and community-building.
Jolly has a doctorate in psychology and a master's degree in psychometrics from the University of Oklahoma.
View Past Speakers
Previous leadership lectures are available on the Dunwoody Alumni & Friends YouTube channel.