Dunwoody Online
Flexible online learning options that fit your schedule
If you're born to do, you belong with us
For more than a century, Dunwoody has been the leader in project-based, applied technical education, preparing students for high-skill, in-demand career fields. That tradition continues as the College expands into the online learning space.
Online students in the Construction Management and Architecture programs will experience one-of-a-kind, innovative, project-based learning in the virtual space with industry-leading software and technology.
Both programs will offer a flexible, barrier-free, online learning option for current students and working professionals who are interested in taking the next step in their career.
So if you learn by doing. If you're ready to dive in to real-world projects. If you're curious, determined, and ready to become a leader in your field, join an online learning community committed to your success. Join our community of skilled problem solvers who are passionate to learn, explore, create, make, and do.
Build on your two-year degree. Online, on your own time. 
Options to explore what Dunwoody has to offer
We're here to make sure you can explore career options in whichever way is most comfortable for you.
To help with that exploration, we offer two ways for you to learn about Dunwoody's brand of project-based learning:
Attend a virtual info session and talk with faculty and admissions about our online programs.
Schedule a personalized virtual tour: a guided tour with an Admissions Counselor of the degrees and majors you're interested in plus information on the admissions process and any other questions you have about college.
Ready to get started? Select your preferred option below, provide us with your information, and we'll be in touch.
Click to RSVP
Learn more about Dunwoody's Online programs at one of our virtual info sessions.
Schedule a Personalized Virtual Visit
Application Process
Fill out the online application.
Follow the instructions to provide your official transcripts.
Talk with an admissions counselor to ensure Dunwoody is the right fit.
Dunwoody utilizes the same price structure for its online offerings as it does for its in-person programs, see our tuition and fee page for details.
Dunwoody also understands the importance of learning with the right technology, so laptops and software are included in the overall price.
Students enrolled in the online program may be eligible for federal and/or state loans and grants, as well as scholarships. We encourage students to complete the FAFSA and speak with our Financial Aid office about your options for paying for college.
Transfer Process & Requirements
Most construction or architecture-related associate of applied science/associate of science degrees will transfer into Dunwoody's Construction Management bachelor completion degree or the Bachelor of Architecture degree.
Since the programs between the schools do not match-up course for course, Dunwoody offers a block transfer of up to
45 credits for Architecture and up to 44 credits for Construction management toward the technical course requirements at Dunwoody College of Technology. In addition Dunwoody will transfer up to 30 General Education (Arts & Science) credits from
your college experience.
Talk with your admissions counselor to set up a transfer evaluation. You can also use our Transferology tool to see which of your classes transfer.
Transfer guides have been created for programs and colleges that have been evaluated for block transfers into either the Bachelor of Architecture or Bachelor of Science in Construction Management. Click here to view the list of guides by state.
Note: The Registrar's Office will still need to do an official credit evaluation when you apply to Dunwoody.
In addition, there are a few procedures and steps we'll need to follow, and a few things we'll need from you, to ensure we make an informed admissions decision.
A completed application for enrollment
Your high school transcripts or GED certificate
Official college transcripts
A virtual interview with one of our admissions counselors is recommended to ensure that Dunwoody is the right fit for your educational and career goals
Optional ACT or SAT standardized test scores
What is the acceptance process like?
Once we have all the information needed to complete your admissions file, it will be sent to our admissions committee for a decision. The admissions committee meets once a week, and students are notified of admissions decisions within four business days. Your admissions counselor will keep you up-to-date on the status of your application.
Are scholarships available?
Yes! Each year, Dunwoody gives out more than $2 million in scholarship funding to students. Talk with your admissions counselor today to find out what scholarships you may qualify for.
FAQ
What programs are offered online?
Beginning in Fall 2021, Dunwoody will offer two of it's in-demand bachelor completion degrees as online programs: Construction Management and Bachelor of Architecture. The Bachelor of Architecture degree is also offered in person at our Minneapolis campus. In addition, two of the College's Associate degrees may also be completed online or in-person, they are: Computer Networking Systems and Web Programming & Database Development.
Can I enroll if I live in another state?
Absolutely! Dunwoody was approved to be a nation-wide provider of online education by the National Council for State Authorization Reciprocity Agreements (NC-SARA) this past December. We are currently authorized to offer our online programs in all states, with the exception of California.
If I live in Minnesota, can I take classes online?
Yes! We understand that online learning might be the best option for people who need more flexibility built into their education, such as working professionals. Any of the programs or courses Dunwoody offers online are available to Minnesota residents as well. Please connect with an Admissions Counselor to discuss the best plan that meets your need.
Can I attend either part- or full-time?
Yes! We know that students choose online education because of the flexibility it provides. So whether you can only take one or two classes at a time, or you want to be a full-time student so you can finish quickly, we are here for you.
Do I need to provide my own laptop and software?
No! Dunwoody knows that students need to learn on the right technology and tools to become leaders in their fields. That's why we provide every student with a Dunwoody-issued laptop and the industry-leading software needed to be a skilled-professional. Laptops will be shipped to enrolled students before the start of the semester.
Will I be required to complete an internship before finishing my degree
No. Internships are a great way for students to gain professional experience while still in school, and while we are here to help connect students with those opportunities if they are interested in them, internships are not required as part of the Construction Management or Bachelor of Architecture programs.
Will Dunwoody help me find a job after I graduate?
Dunwoody has been a leader in providing life-time career placement services for its alums. And with Dunwoody's 106-year history of strong industry connections, it is no wonder why 99 percent of our graduates are placed in the field for which they trained.
Will my classes be live sessions with other students present, or will I be learning on my own?
Just like in the real world, there are times when you need to collaborate and interact with others, and other times when you need to work at your own pace, and in your own way. That is why classes are structured to include both individually-paced learning, and synchronous sessions in large and small-group formats. Providing both structures allows you to get the flexibility you need, with the engagement needed to be successful.
Will there still be hands-on components to the programs?
Yes! For both the Construction Management and Bachelor of Architecture programs the hands-on work is software based. That means, that you will be able to work, design, and experience hands-on, using the state-of-the-industry software and tools pre-loaded on your Dunwoody-issued laptop.
What if I need tutoring or other academic support?
We want you to be successful, and we have the tools and support services needed to ensure you can finish your degree. Whether you are online, or in-person, Dunwoody students can access free tutoring and academic support through the Elftmann Student Success Center. Virtual tutoring options are available, as well as targeted academic support. In addition our online students can also access all of the support services provided through our Student Affairs Department.
Admissions Representative Contact Information
Come Determined. Graduate Destined.
We are committed to ensuring that Dunwoody is the right fit for you. To do that we spend time getting to know you – the whole you. During the admissions process we seek to understand how you learn and what you are looking for in a school. Dunwoody College is an investment in your future and we are dedicated to ensuring the enrollment process is not only clear and uncomplicated – but focused around you.
Contact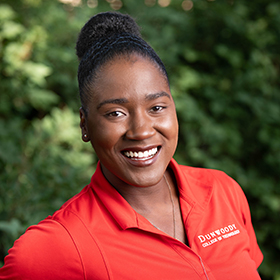 Augustine Brutus
Regional Admissions Counselor
Phone: 612.381.8160
Bridget Reynolds
Dean of Learning
Phone: 612.381.3373
Favorite things about Dunwoody:
I love that our students come to Dunwoody knowing they can earn a degree that they will be able to use and make an immediate impact in their chosen fields. The level of hands-on training our students are exposed to allow them to have confidence in knowing that they are ready to make a contribution that will make a difference in their careers and begin a road to a bright and successful future.
Favorite part about working with students:
My favorite part about working with students is that I have the opportunity to help shape a person's life. Going to college can be very stressful and intimidating, being able to help make things make sense and guide students to the right path so they can forge a successful life is one of the best rewards of being an Admissions Rep.
 Hobbies outside of work:
 

Snowshoeing

Traveling

Cooking/Eating

Hiking